Hey Guys, Are you a blogger or small business? And you find a Best Email Marketing Services For Your Website And Businesses?
So you are visit right place.
Here I show you Top 5 Email Marketing Services Provider For Small Blogger And Businesses.
Email marketing is major factor to engaged your audience and build relationship to your visitor. So guys choosing best Email marketing services provider is important.
So let's started……
What Is Email Marketing?
Email Marketing Is Part Of Marketing. Any kind of marketing in which mainly used by email, is called email marketing. So guys let's understand through example.
And those people come to my blog to read blogpost and my blog traffic was increased
So it's a real life example of Email Marketing.
Email Marketing gives you biggest opportunity to contact with your subscriber and your visitor after theg leave your website.
Here I have selected some real life example that are used in real life as use email marketing.
So guys I'm blogger. I have a collected lots of people email address. When I published a new blogpost on my blog so i send blog post notification using email.
So my subscriber realized, "DIGITALJAYPAL has published new blogpost".
Top Benefits Of Email Marketing
1.Easy To Use :-
If you want to start an email marketing then you will start easily. Email Marketing doesn't required any huge team or technical knowledge. You can easily started. Today many email marketing company offered drag and drop editor. So you easily create stunning campaign.
Do you know what are the benefits of email marketing? So friend here I will show you top 5 benefits of Email Marketing.
2. Drive Sales And Revenue:-
Yes email marketing is best way to drive sales. Email marketing conversion rate are better than social and organic traffic. So if you want to drive sales and revenue than you need to start email marketing.
3. Reach Globally Audience:-
Today only two way where you can reach globally audience. One is social media marketing and another is email marketing.
Social media definitely gives you globally tech but its does not telling you who actually read your content and love your content.
While other side email marketing gives you all tactics. It's show you all data who open you email, click your link etc.
So guys let's started looked a best email marketing tool for small blogger and businessman.
Best Email Marketing Tool For Small Blogger And Businessman
(1). Constant Contact :-
It's a fastest growing and largest email marketing services provider in the world.
Constant Contact is best for newbie blogger and businesses. It is also easy to use for small blogger and businesses.
In this email marketing services you can easily manage your email list, campaign, email template. Its comes with tons of customizable email template that will help you to grow your businesses.
Constant Contact offered you 60 day free trial. If you want to try and access all function then must be try.
(2). Sedinblue :-
So guys I already used Sedinblue. After using Sedinblue for 2 year, Im pretty confidant to know why Sedinblue was best for new blogger.
Sedinblue also offered free package where you can send 300 email per day and unlimited contact. You can easily removed this limits just in £5/month. In this services paid plan was started $25.
So guys if you are begginers in blogging and businesses and you will find best free email marketing provider then Sedinblue is best for you.
Sedinblue is best for you if you have a large website and you want send content based email.
(3). Aweber
So guys Aweber is I already used in my other brand blog. Aweber is one of the most popular email marketing services provider in the world.
They offered an amazing featured and tool for small blogger to manage their email marketing. Here you can easily manage your campaign, easily design email using drag and drop option, easy to create responsive sign up form.
Their support option include live chat, phone call and email support. They have vast How to video tutorial library.
Starting with Aweber is very easy. Just visit Aweber website and fillup signup form. Aweber offers 30 day free trial. Here you can access all the featured.
If you have satisfied with Aweber then you can go with Aweber. Their pricing starting at $19/month.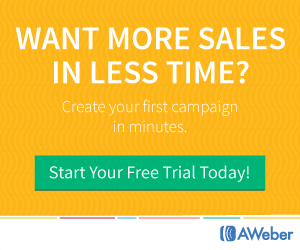 (4). Get Response:-
So guys if you are beginners then Get Response is best for you. Get Response is amazing email marketing service provider for newbie blogger and businesses.
Get Response comes with amazing featured like Marketing automation tool, drag and drop builder, beautiful responsive forms, segment contact, autoresponders, send email for specific group, landing pages, A/B testing, and tracking etc.
Their support provide by live chat, email and phone calls.
Get Response also offered 30 day free trail, where you can easily try their services. If you like their services then their pricing starting at $15/month.
(5). Mailchimp :-
Mailchimp is almost free email marketing services provider. They are offered free plan to allowed you 2000 subscriber and 12,000 email per month.
Mailchimp is best for newbie blogger and businesses who started from scratch. Its comes with amazing featured that your website visitors converted into your subscriber.
I personally used mailchimp for my email marketing campaign. But I personally don't like their support.So guys if you want to Learn email marketing, if you are starting from scratched and you don't spend more money then I recommend mailchimp is best for you.
Conclusion:- Best Email Marketing Services
So guys, If you are Starting a new blog or new business and you are not expert in email marketing then Constant Contact, Sedinblue, Mailchimp Best email marketing services for you.
I hope this article will help you to choose Best Email Marketing Services for small blogger and businesses.
If you are professional blogger and you want to send daily automation update then Aweber is best. You can easy to start your email marketing journey with Aweber. ( Try 30 day free trial )
If you have any question then then please comment below.